The subforum that can never be spelled right.
Moderator: T-man
jjk978 wrote:What is a good recommended oil to make sure that the d2 steel on the 51 doesn't rust
A lot of people swear by militec, or some of the more expensive gun oils. I use 3-In-One, which can be picked up at any Home Depot for around 6 bucks. I usually oil my blades about once a week, which may be a little excessive, but it does the trick. I'm in Florida though, where we have Vietnam style heat and humidity, which isn't very nice to D2.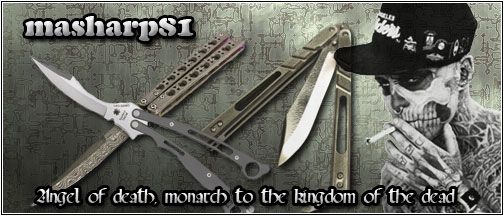 Would Vitamin E oil work? I got a bottle of that laying around, but don't wanna use it and have it ruin my blades Dx
"Don't hurt yourself"
Test it out on a crappy knife, but I'm pretty sure any oil will do.
" It comes with the territory." - Jessica
"
<--- Cause that's how shit works here for everyone
" - Silent Jay
Will try. Thank you :]
"Don't hurt yourself"
Ahhh I love the smell of militia-1 in the morning haha
I got my 3 in 1 from Walmart for like 3-4 dollars! It works great for the price!
-Wheel
Just started flipping?
Hard to find decent Balis in the
$30-$60
range?
The Search Ends Here!
Don't hold out for a BM42! Take that $400+ you are planning on spending and go get in line for an Alpha Beast! You won't be disaponted!
I guess I need to start oiling my edc's more often. I usually oil my blades once a week, which has been good for my flippers, but they are usually kept indoors. This Florida humidity is brutal on D2 and 440c. I've been carrying my BM53 on the job sites, and after 5 days of use I had some rusting on the bottom of the tang.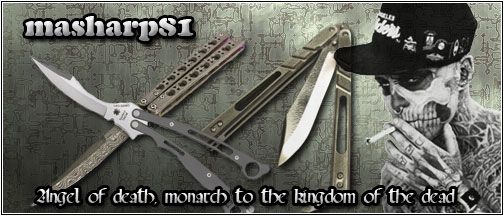 You should try tuffglide wipes from century solutions. Wipe on and it dries leaving a cote of synchetic rust inhibitor. I know some heavy collectors who use those on there $$$$$ knives that sit in a safe for long periods of time with no problems. Also if you have a knife storage case(i use a pelican gun case) they sell little bricks that you put in the case and it prevents rust for 3 years by emitting some kind of rust inhibitor. Or I use those little dry packets that come in pill bottles and things like beef jerky packs. Just put a few of those in there. Then last but not least if ur gonna be sweating when ur wearing invest in a sheath to keep it off your body and away from the sweat. If it does get sweaty clean it off with the wipes or some oil asap afterwards. Or you could get the blade cerakoted or something. If you "accidently" break the blade benchmade MIGHT upgrade you to a black coted blade for $35 but maybe ask them first.lol
---
Who is online
Users browsing this forum: No registered users and 2 guests